San Angelo, TX – Upon arrest, if bail is granted, it's not always within everyone's reach. When a family member or friend is in such a situation, the best alternative is to seek support from a reliable bail bonds agency. Working with bail bond agencies is crucial, and more people have begun to understand the benefits of working with one, especially if it is a local agency with the experience and reputation for honesty. Freedom Libertad Bail Bonds is a leading agency in San Angelo, Texas, known for being run by a reliable and knowledgeable team with vast experience offering the best bail bond services for all their clients' needs.
"At Freedom / Libertad Bail Bonds, we have a wealth of experience and can guarantee excellent services. Our bail bonds agents are knowledgeable, and you can count on them to help you get out of jail fast. We understand the best tactics to use when handling your situation. Also, we will know what to do should we face problems during the process of posting bail. We care about you and understand exactly how scary needing a bondsman can be. It's ok that you have never needed one before. Let us help you find out solutions for your bail bond needs and more so you can spend time with those that matter the most to you," said the agency's Ricky Villarreal regarding the quality of their services.
When someone is in jail and families don't know what to do to get them out, the process can get complicated if the right steps are not followed. During this stressful time, what people need to do is contact a reliable bail bonds agency. By hiring Freedom Libertad Bail Bonds clients do not have to worry about upfront charges and the process as their specialist will make sure that the process is straightforward.
Because being arrested can be a stressful and uncertain experience, especially when it is the first time, the specialists from Freedom Libertad Bail Bonds are focused on helping their clients get out of jail in the shortest possible time. This renowned agency prides itself on being recognized for transparency and ensuring that they provide top-notch services.
Freedom Libertad Bail Bonds offers different services such as bail bonds service, notary public, jail record search, warrant search, immigration bond, etc. Specialists with experience and dedication handle all their services to help their clients with professionalism and honesty.
Whether their clients are trying to see a warrant status, find a possible inmate, need a notary, or need an immigration bond, the agency is available to help 24/7. Those looking for reliable San Angelo bail bonds services can contact Freedom Libertad Bail Bonds via phone at 325-659-2663. Their offices are located at 1104 N Chadbourne, San Angelo, TX 76903. For more information about their services, visit their website.
Media Contact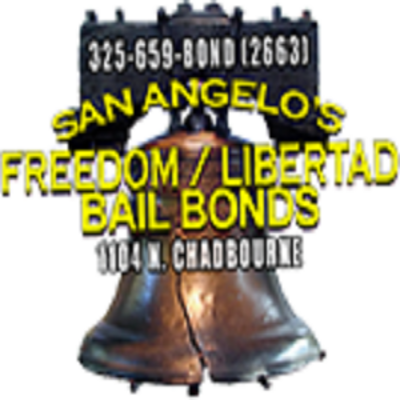 Company Name
Freedom Libertad Bail Bonds
Contact Name
Ricky Villarreal
Phone
325-659-2663
Address
1104 N Chadbourne St
City
San Angelo
State
TX
Country
United States
Website
https://www.sanangelobonds.com/