Los Angeles, CA – Wanna Be Ink offers a diverse range of temporary tattoos, from half-sleeve patterns to geometric designs, catering to all personalities. The company values self-expression and individuality, and temporary tattoos allow people to do so without the commitment of a permanent tattoo. Clients can try out specific designs before making a permanent decision, whether it's due to religious beliefs or the desire for flexibility in changing moods and attitudes. All tattoos manufactured and sourced by Wanna Be Ink are non-toxic and safe for use. 
Wanna Be Ink carries colorful full-sleeve temporary tattoos that feature flowers, words, clocks, animals, skulls, dragons, and many more. Clients who prefer an edgy look can select from a collection that includes war medal watches, African-inspired, American Indian woman, religious symbols, abstract-designed sleeves, and more. The full sleeves have water-proof technology to keep arm tattoos fresh for up to 28 days. Clients can easily swap out designs and experience pain-free applications. Alternatively, they can shop for half-sleeve temporary tattoos and place them anywhere on the body. They feature famous movie posters, bears, clown faces, Japanese writing, black diamond, bloody gunshot, and crown designs. 
Besides Fake Tattoo Sleeves, Wanna Be Ink empowers men and women desiring to express their masculinity and femininity using temporary chest tattoos with jewel, raven, and chandelier designs or wing, necklace, lotus, or henna styles. They can also buy temporary tattoos for their ears, eyes, fingers, face, lower back, neck, thigh, lips, belly, and back. On the store's website, clients can find tattoos for men, women, and kids, which have various styles for every occasion. 
The store stocks a gel that helps to eliminate the shine on a temporary tattoo, giving it a more realistic look against the skin. Since the tattoos aren't permanent, they begin to fade or scrape off after a time due to natural oils and the deterioration of skin cells. When they peel or fall off, clients can use rubbing alcohol to remove the remainder of the tattoo or apply another for the beach, outdoor activities, or family events. While everyone is unique, temporary tattoos may cause adverse reactions such as redness, itching, and swelling, in which case Wanna Be Ink recommends consulting a medical professional for further help.
The team encrypts all data passed through their website, ensuring they protect personal information so clients can shop freely and checkout with ease of mind. They can join the newsletter listing to receive notifications about new products, sales, promotions, and company news. They can also read the terms of service, privacy, refund, and shipping policies to enhance their shopping experience. 
Visit Wanna Be Ink's website to buy full-arm sleeve temporary tattoos, or call (209) 926-6223 for guidance. The company is at 7423 Alabama Ave., Los Angeles, CA, US. 
Media Contact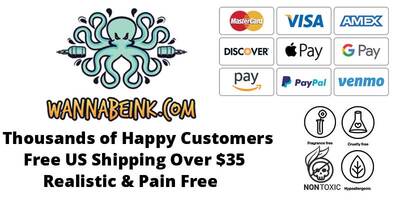 Company Name
Wanna Be Ink
Contact Name
Paul Gonzalez
Phone
(209) 926-6223
Country
United States
Website
http://wannabeink.com/